Thrifty rent a car Cluj – Top Cluj Car Hire Service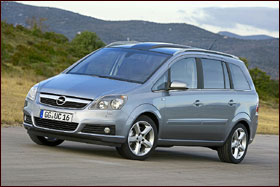 Traveling to Cluj using one of Thrifty's Rent a Car Cluj vehicles is certainly an entertaining activity, because Cluj is one of the most beautiful counties in Romania. We only use top quality vehicles from Chevrolet and Opel, so your driving experience will definitely be a positive one. We make sure to renew our vehicle fleet each and every year, so if you choose to rent a car from Thrifty Cluj Car Rentals you will always get access to the newest car models.

Many people choose to visit Romania for business or leisure purposes, and sometimes for both. Renting a vehicle from Thrifty Rent a Car Cluj is a decision that will save you a lot of time, as well as a lot of money, because you also get access to a team of highly trained professionals who are ready to assist you day and night, 7 days a week. If you choose Thrifty Car Rentals Cluj, our agents will also offer you a lot of free, valuable information about the cars you are interested in, as well as about the city and its surrounding, the tourist attractions, and so on.

We use a 100% secure, advanced online reservation system, which can tell you if the particular car model you are interested in is available in only a few seconds. In addition to this, our safe payment system, which accepts all the major cards (VISA, MASTERCARD or AMERICAN EXPRESS) keeps your transactions and personal data confidential.

Reasons to choose Thrifty Rent a Car Cluj
- Our low rates, paired with the great fleet and professional service speak for themselves;
- The advanced online reservation system is one of the best (if not the best) in the industry, offering you instant quotes and vehicle availability checks;
- We have an extensive fleet of top cars from Chevrolet and Opel: Aveo, Antara, Cruise, Corsa, Captiva, Insignia, Orlando, Spark and Zafira;
- We've got a great team of experienced agents who will gladly help you solve any problem – including replacement vehicles if you need them;
- We are offering a great variety of insurance packages, which will help you be prepared for any unexpected event.

Thrifty is one of the top names in the car rental industry, and Thrifty Rent a Car Cluj has adopted the same values with its parent company. This means that you will get the same quality service that you have come to expect from one of the world's best car rental businesses.

City attractions recommended by Thrifty Rent a Car Cluj
Cluj is located in the very heart of Transylvania, offering a huge variety of activities for the tourists. No matter if you are interested in mount climbing, mountain biking or nautical sports, you will find many top quality sports resorts.
Cluj-Napoca, one of the main towns in the county of Cluj, is well known for its music, dance and film festivals, as well as for its fairs and exhibitions. In fact, if you plan to visit Cluj for business-related purposes, you will be pleased to hear that you will find plenty of business-related facilities, such as conference rooms or a huge fair center which is well known for its strong commercial activity.

If you consider visiting Cluj, make sure to reserve a car from Thrifty Rent a Car Cluj.

EMERGENCY?
CALL US
---
If you have an emergency and need immediate assistance, don't email us.
Call NOW: +40740002000
Customer service agents are on call 24x7 to assist you.