Car rental Bucharest Ė Affordable car rental service in Bucharest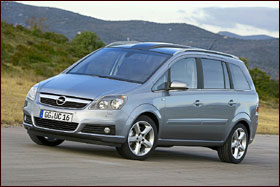 Thrifty Car Rental Bucharest gives you tremendous value for your money when it comes to renting a car in Bucharest, Romania. We only use modern cars and our advanced reservation system gives you the possibility to choose the model that fits all your needs. In addition to this, our online reservation software uses sophisticated data protection algorithms which exceed the ones used by the banks, so your confidential data stays secure with us.

If you consider using Thrifty Car Rental Bucharest for your transportation needs, you will be glad to know that our system allows you to check if a particular car model is available within seconds. We donít want to rely only on computers, though, so we have got a team of trained agents that will answer your questions, giving you information concerning the size of the cars, their trunk capacity, the available insurance packages and accessories, and so on.

With Thrifty Car Rental Bucharest, you can rest assured that you will be driving a great car, be it Chevrolet or Opel. The models we are offering include Cruise, Corsa, Aveo, Orlando, Captiva, Antara, Insignia, Zafira, Astra and even the tiny, and yet powerful Chevrolet Spark.

Planning to fly to Bucharest and land at the Baneasa International Airport? Thrifty Car Rental Bucharest has one of its offices inside the airport, near the terminal exit. And the good news doesnít stop here: the parking facility is only one or two minutes away from the terminal, so you wonít have to waste any of your precious time.

But what happens if you plan to arrive in Bucharest, Romania using the Henri Coanda Airport, the largest airport in Romania? Fortunately, weíve got an office in there as well, inside our dedicated Ďrent a carí airport area. Once again, the parking area is just a minute away from the airport.

All our offices use modern technology, so any of the VISA, MASTERCARD and AMERICAN EXPRESS credit cards are accepted without problems.

Why you should choose Thriftyís car rental service in Bucharest
When you choose a car from Thrifty, you save time and money. You save time because you donít have to rely on the crowded public transportation system (Bucharest is a city with over 2 million people!) and you save money because we offer great cars at great prices. This will allow you to move freely and the optional GPS comes preloaded with high resolution, updated maps for the entire country.

Thrifty Car Rental Bucharestís cars are equipped with ABS, air conditioning, airbags, CD players, and so on, making your trips here safe and pleasant. On top of this, we have a road assistance thatís always at your disposal, 24 hours a day, each and every day. We are offering all sorts of insurance packages, which can cover any unforeseen events, be them accidents, thefts, or so on Ė we will even give you a replacement car if you need it. Optional accessories like snow chains, winter tires and so on are available whenever they are needed.

Great places to visit if you rent car in Bucharest
The National Art Museum is a former royal palace which was built at the beginning of the 18th century, hosting many great art pieces - some of them were made in the 15th century! Itís definitely a good source of information for the Romanian and European art lovers.

The Cismigiu Garden is a great park located right in middle of the city. Itís a great place to take some time for yourself and simply enjoy the nature, or to let the kids play in their dedicated area, while you enjoy a game of chess or a concert.

The original National Theater building was destroyed during the second World War, but it was rebuilt in 1973. Itís a huge theatre which includes four performance halls, so itís an objective you might want to add to your &must visit& list.

No matter if you plan to come to Bucharest for business or leisure, the city offers lots of interesting tourist attractions. Click the link to reserve a great car from the car rental Bucharest experts.

EMERGENCY?
CALL US
---
If you have an emergency and need immediate assistance, don't email us.
Call NOW: +40740002000
Customer service agents are on call 24x7 to assist you.