Car hire Bucharest – Discover the best car hire service in Bucharest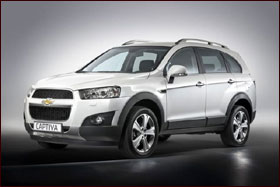 Thrifty Car Hire Bucharest offers the best value for money in Romania. The superior online reservation system will allow you to choose a car that suits your needs perfectly. We use an advanced data protection system, which ensures that your transactions (including your personal data) remain confidential.

Another important advantage when you are using Thrifty Car Hire Bucharest: the reservation system allows you to check the availability of the cars in only a few seconds. In addition to this, we've got many agents who are more than willing to answer all your questions, offering information and advice on the model and size of any cars, the capacity of its trunk, various accessories, insurance packages, etc.

Thrifty Car Hire Bucharest's fleet consists of various vehicles, both manual and automatic; we have offices located inside the airports, as well as around the city. We offer Chevrolet and Opel models, be them Spark, Cruise, Aveo, Corsa, Captiva, Astra, Orlando, Antara, Zafira and Insignia. We make sure to renew our fleet each year, so you will always have access to the newest car models.

If you fly to Bucharest using the Baneasa International Airport, you will be pleased to hear that Thrifty Car Hire Bucharest has offices located right before the Arrivals' terminal exit. Also, our parking facility is very close to our office, so you won't waste any time when you hire a car in Bucharest using Thrifty's services.

On a side note, the Baneasa Airport will go through big changes in the near future, being transformed in a high profile airport for business travelers, accommodating private jet and helicopter flights.

Will your plane be landing on the Henri Coanda Airport? Do not worry, we have an office inside this airport as well; it is located in the dedicated 'rent a car' airport area and it's only 1 or 2 minutes away from the parking area.

Our offices have safe, modern payment systems and accept VISA, MASTERCARD and AMERICAN EXPRESS credit cards.

Benefits when using Thrifty Car Hire Bucharest
We strive to give our customers the best value for their money, offering them the best means to save money, as well as time. Bucharest is a large city and its public transportation means are always crowded; through the usage of a rented vehicle at an affordable price, these problems are gone for good. Trying to find a certain address easily? Our GPS systems include precise, updated maps for the entire country, so you won't have to waste any time trying to discover any address, be it in Bucharest or anywhere in Romania.

Still wondering if Thrifty Car Hire Bucharest is a good choice? Our vehicles come equipped with top quality air conditioning systems, antilock braking systems, airbags, Radio / CD players, etc – this shows that we strive to make your trip here as safe and as pleasant as possible. We also have a world class road assistance.

All our vehicles are equipped with air conditioning, abs, airbags and CD players, making your trip pleasant and safe. Our road assistance department never sleeps, so it is available at your disposal 24 hours a day, 7 days a week. Since we always go the extra mile for all our customers, we will even help you with a replacement car if it is needed. We offer a great variety of insurance packages to cover any unexpected events: damages, accidents, thefts, etc – this way you will be able to enjoy your trip here.

Thrifty Car Hire Bucharest also offers optional accessories when they are needed, like winter tires or even snow chains if you plan to spend the winter here, in Romania – always a good idea!

Recommended places to visit if you hire a car in Bucharest
Visit the Parliament Pallace ('Palatul Parlamentului' in Romanian) and you will certainly be impressed by its huge rooms, as well as by its luxurious furniture. It's a known fact that its size is comparable with the size of the Pentagon.

The Romanian Athenaeum ('Ateneul Roman') is both a prestigious concert hall and a beautiful building. Its construction was possible because of a successful campaign, which was encouraging all the Romanian citizens to donate for this noble cause.

The Village Museum contains well over 200 different old peasant's houses, wooden churches, windmill, etc. It's one of the biggest museums of its kind, so make sure to visit it – it's on your way to / from any of the airports in Bucharest and if you are lucky you might even participate to one of the traditional dance festivals and crafting exhibitions that are held here on a regular basis.

Click this link to discover why we are known as the car hire in Bucharest specialists.
EMERGENCY?
CALL US
---
If you have an emergency and need immediate assistance, don't email us.
Call NOW: +40740002000
Customer service agents are on call 24x7 to assist you.